インドネシア・ジャカルタ講習会 The Seminar in Jakarta in Indonesia
セミナーは9月16、17日の二日間、協同組合・中小企業省内で行われた。
The Seminar was held in the building of the Ministry of Cooperative and Small and middle scale Business for two days, on 16th and 17th Sep..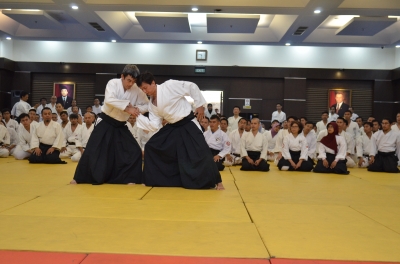 主催団体は Institute Aikido Indonesia 。
2時間のクラスが3回と審査が4時間以上にわたって行われた。
参加者は約180名。
The organizer party is Institute Aikido Indonesia.
In this seminar 3 times ,2 hours classes and over 4 hours exam was done.
The participants were about 180 people.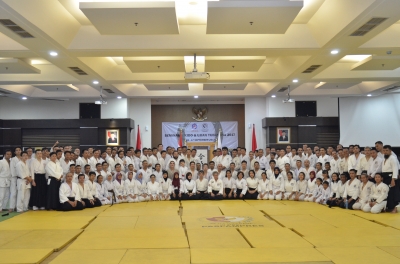 セミナーでは立った姿勢や半身の構えといった単純な動きが積み重なって技が構成されていることを説明した。
I explained that the accumulation of simple movements, such as standing position or Hanmi position, constructs Aikido technique.
取りも受けも同様の動きを行っていること、その両方が合気道にとっては大切なことを示した。
I showed that Tori movement and Uke movement are almost same and the both movements are important for Aikido.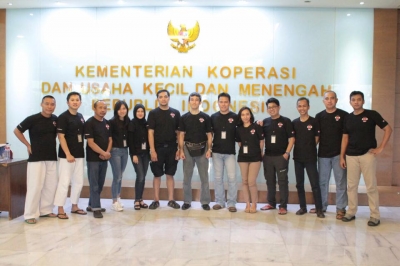 講習会の最後の言葉
The Last Speech of the Seminar
この講習会のテーマは「単純な動作の重要性」でした。
「単純な動作」とは例えば立ったり、座ったり、呼吸したり、歩いたりとか、半身の構えのことです。
単純な動作は多くの重要なポイントを持っています。
ある人達は単純な動作について「知っている。知っている。」と言うかもしれません。
でも彼らはその多くの重要ポイントを理解していません。
どうか、その重要なポイントに意識を集中して下さい。
単純な動作を意識して作り上げる。そして、その動作を積み重ねて合気道の技を構成していく。
単純な動作は上達のための鍵になります。
それに気をつけて稽古を続けていきましょう。
The theme of this Seminar was "The importance of the simple movement".
For example, "the simple movements" are such as standing, sitting, breathing, walking and hanmi position.
There are so many important points in the simple movements.
Some people may say about simple movements "I know. I know.".
But they can not understand the important points.
Please focus the important points.
Build up the simple movements consciousnesly and construct Aikido tecnique by accumulation of simple movements.
The simple movement is a key for improvement.
Please attention the points and continue to practice.