東京武道館主催「体育の日記念事業」合気道公開指導報告 The Report of the Seminar in Tokyo Budokan
稽古の前に4つの重要な基本動作の説明をして、それについてのトレーニングを教えました。
Before practice I explained four important basic movements and taught some trainings about them.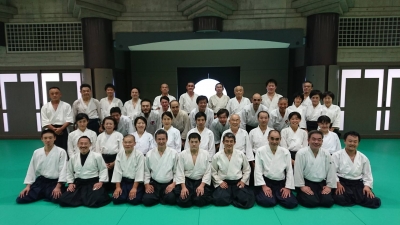 4つの基本動作
1、下丹田、腹の意識
2、天の地の間の中心軸
3、半身の構えで前後に走る線
4、体幹から分離した肩腕
Four important basic movements
1, Bottom core, Hara
2, Center axis between heaven and earth
3, The line between front side and back side on Hanmi position
4, Shoulder and arm divided from trunk body
これらの基本を意識して稽古を行いました。
We did Aikido practice with consciousness of these basic.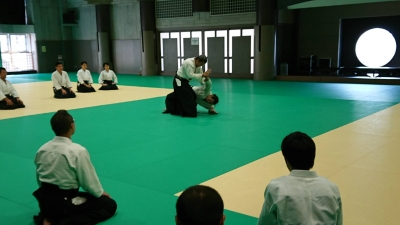 途中では身体の部分をつなげて力を効率的に出す方法を示しました。
4つの基本動作の2から4には、この方法が必要です。
In the half way, I showed the effective method to exert power by connecting body parts.
From No.2 to No.4 of basic movement need this method.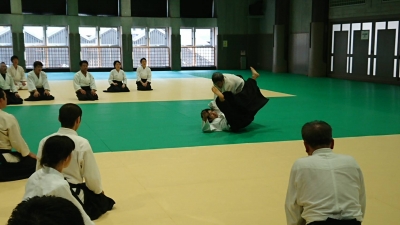 最後の言葉
最初に行った基本動作を思い出して下さい。
初めは簡単そうに見えたかもしれません。
でも技の中では基本動作が難しく感じられたのでしょう。
単独動作より相手がいる動作の方が難しいのは当然のことです。
今日教えた基本動作トレーニングで自分の動きを見つめながら合気道用の身体を作り上げて下さい。
Last speach
Please remember basic movement done at first time.
You might have seen them so easy.
But you would have felt the basic movements difficult in Aikido technique.
It is natural that the movement with opponent is difficult than single movement.
Please make your body for Aikido by the self observation of the basic movement training done today.