東芝合気道部体験教室報告 The Report of The Special Seminar in Toshiba Aikido Club
セミナーの内容は「身体の調整」「護身術」「氣の錬磨」で
合気道そのものではなく合気道から派生した役に立つメソッドを教えるものです。
The contents of seminar are "The body adjustment", "Self defence" and "Training of Ki energy".
The seminar is not Aikido itself. It is the seminar of the useful methods derived from Aikido.
初心者の方でも無理なく楽しめるように構成しました。
I composed the seminar to reasonable and pleasant even beginners.
当日は初めての方4名が参加し、東芝合気道部や富士通合気道部の方15名の協力のもと行われました。
The seminar was held for four beginners with the cooperation fifteen members of Toshiba Aikido Club and Fujitsu Aikido Club.
「身体の調整」では人体の骨格から分かる正しい身体の構造を理解するためのトレーニングを行いました。
In "The body adjustment", we did the training for understanding correct body structure as human bone frame.
多くの人は人体の構造を理解しないで間違った身体のイメージを持っています。
それを変えるトレーニングです。
Many people misunderstand body structure and have mistaken image of their body.
This is the training to change it.
脱力状態を保ったまま脊椎を直立させる方法を指導しました。
I taught the way stand up the spine with keeping relaxation.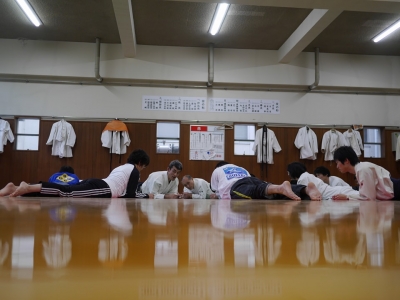 「護身術」は合気道の技術の一部を使った簡単な護身術と護身のメンタルポジションの設定を行いました。
In "Self defence", we did simple self defence training to use some parts of Aikido.
And we set up the mental position of self defence.
人間が明確な目標を作ることによって大きな力を発揮することを示しました。
I showed that human can exert the big power by making defined goal.
「氣の錬磨」は動作と呼吸と意識操作で氣の操作を行いました。
マインドフルネスにも通じる武道的な瞑想ワークです。
In "Training of Ki energy", we controlled Ki energy by movement, breathing and awareness operation.
This is a martial art meditation work and is related to mindfulness ,too.
この特別セミナーの後、通常の合気道の稽古を行いました。
After the special seminar we did regular Aikido practice.
参加された方は皆、盛り沢山の2時間のセミナーを楽しんでいました。
All participants enjoyed so many contents two hours seminar.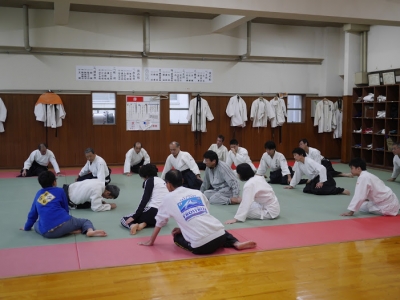 セミナー等の依頼はこちら。 About request of seminar is here.
最新情報もこちら。Latest information is here.
Aikido Shihan Tomohiro Mori Official Website
Facebook ページのフォローお願いします。 Please follow my Facebook page.
最新情報が常に手に入ります。You will be able to get latest information.

宜しければ下記のSNSボタンでフォローして下さい。
If it doesn't bother you, please follow by these SNS buttons.
↓     ↓     ↓     ↓