スリランカセミナー報告 The Report of the Seminar in Sri Lanka
スリランカは初めての訪問です。
This is my first visit to Sri Lanka.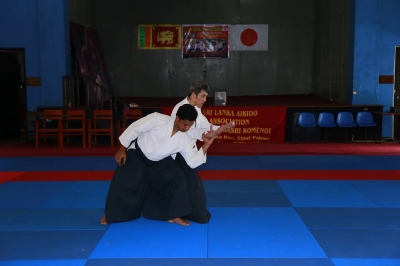 稽古は午前、午後2時間ずつの2クラスが2日間行われました。
The practices were held the 2 hours classes twice a day, morning and afternoon, for 2 days.
参加者は約20名。約半数が有段者です。
The participants are about 20 people. The half of them are Dan grade holders.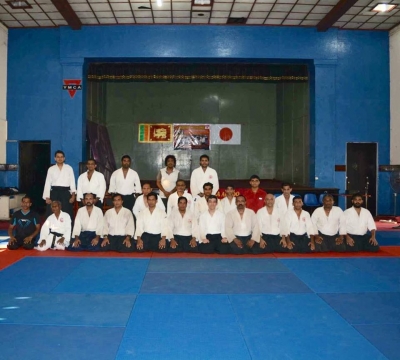 会員の皆さんは真面目に合気道に取り組んでいました。
All persons tackled Aikido seriously.
気温30度の酷暑という中、皆さん一生懸命稽古していました。
They did very hard work in terrible temperature, celsius 30 degrees.
特に開会式を10分以上前から皆、正座して待っていた姿が印象に残っています。
I especially remembered the scene that all people were waiting on Seiza position for over 10 minutes before opening ceremony.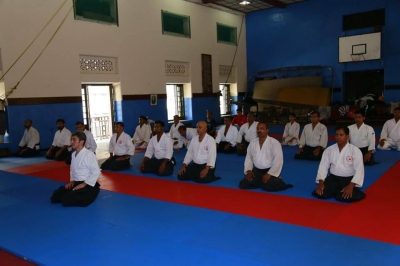 スリランカ合気道連盟の創始者でもある米ノ井正師範がしっかり指導されていたのでしょう。
I think that the founder of Sri Lanka Aikido association, Tadashi Komenoi Shihan taught them strictly.
The Report about Aikido in Sri Lanka by Komenoi Shihan, Japanese page
今回のセミナーでは審査が予定されていなかったので、より基本的な動きの指導をすることができました。
In this Seminar I could instruct in focusing basic movement because of nothing grading exam.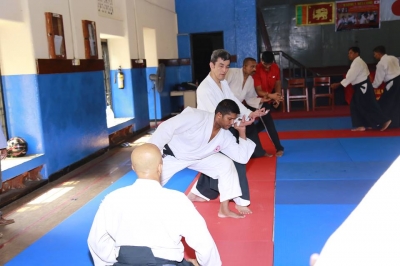 半身の大切さ、どんなときでも半身の姿勢を意識すること、
取りと受け双方での基本的な動きの復習、
正確で丁寧な動きを生み出す身体操作等を指導しました。
The importance of Hanmi position,
keeping the consciousness of Hanmi position every time,
the review of basic movement in relationship of Tori and Uke,
the body control that produced accurate and gentle movement, etc..
I instructed about them.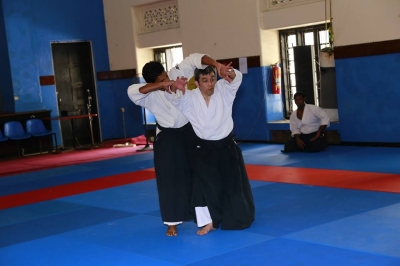 それを素直に学ぼうとする会員の姿勢が思い出されます。
I remember the their posture to try learning obediently.
4月にも何人かの会員が本部道場にやってきます。
Several members will come to Hombu Dojo from Sri Lanka in April.
日本から多くの良い学びを持ち帰っていただくことを願っています。
I hope that they bring back many good learning from Japan.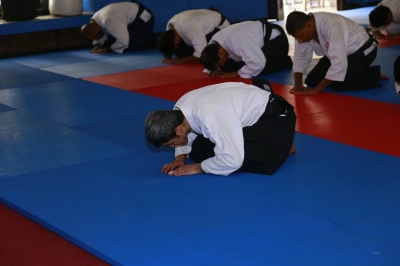 セミナー等の依頼はこちら。 About request of seminar is here.
最新情報もこちら。Latest information is here.
Aikido Shihan Tomohiro Mori Official Website
Facebook ページのフォローお願いします。 Please follow my Facebook page.
最新情報が常に手に入ります。You will be able to get latest information.

宜しければ下記のSNSボタンでフォローして下さい。
If it doesn't bother you, please follow by these SNS buttons.
↓     ↓     ↓     ↓