インドネシアセミナー報告 The Report of the Seminar in Indonesia
セミナーの主催はインドネシア合気会連盟、最近、新しく立ち上がった連盟です。
The organizer of the seminar is Indonesia Aikikai Federation, recently new established Federation.
本イベントはこの連盟の最初の大きな国際セミナーになります。
This event is first international seminar as this Federation.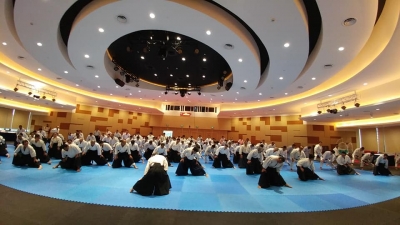 場所はインドサットという通信大手のビルの四階です。
The place is fourth floor in the building of Indosat, telecommunication company.
エアコン完備で外が30度以上の中、20度で稽古ができます。
The Dojo employs air-conditioning. we can practice in 20 degree in spite of outside over 30 degree.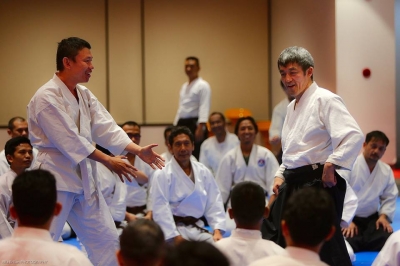 12の連盟加盟団体と連盟外の3団体から200名を超える会員が参加しました。
Over 200 people participated from 12 members dojo of the Federation and 3 other groups.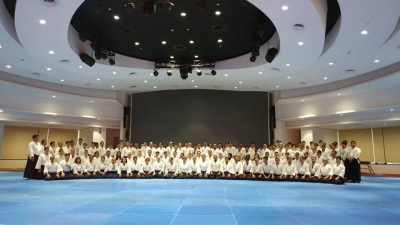 2時間もしくは3時間の稽古を四回、そして最終日には73名の審査を行いました。審査の時間は4時間半にもなりました。
We did 4 times classes in 2 hours or 3 hours and in final day did grading exam of 73 candidates. The time of grading exam was for 4 hours half.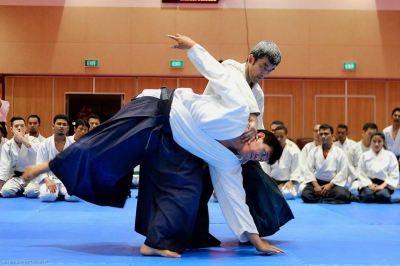 稽古は非常に真面目に行っていました。
They practiced very seriously.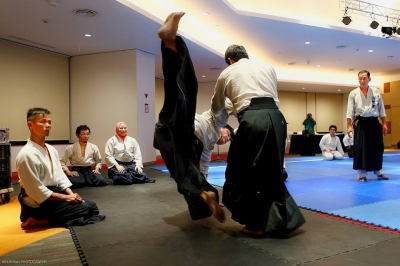 審査の後のコメントです。
This is the comment after the examination.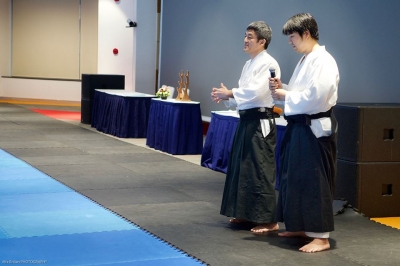 まず、審査では基本技をやって下さい。
At first, you should do basic technique in grading exam.
次に技を適当にやらないで下さい。
Next, you should not do sloppy technique.
私は、その技が出来るか出来ないかよりも、きちんとした技をしようとしているかいないかをみたいと思っています。
I want to watch more whether you try to do the serious technique or not than whether you can do the technique or not.
合気道の技には難しいものもありますが、それから逃げないでやって下さい。
Aikido has some difficult things, but don't avoid them.
今回の審査では高段者の審査のときに途中で受けを交代してもらいました。
I ordered the exchange of Uke in middle of higher grading exam.
その理由の一つは受けが疲れていたからです。
One reason is tiredness of Uke.
もう一つはある人達の受けの能力が足りなかったからです。
Other reason is less Uke ability of some persons.
受けの能力不足は重要な問題です。
The shortage of Uke ability is important probrem.
この問題については取りの審査受験者は責任がないと思うかもしれません。
You may think the exam candidates have no responsibility about this probrem.
もちろん、受けの能力についての第1の責任は指導者にあります。
Of course, first responsibility about Uke ability is the instructor.
そして、その次の責任は道場の先輩達にあります。
And second one is senior member of the Dojo.
今回、高段者の審査を受けた人は道場では先輩にあたるでしょう。
The persons taught high grading exam are senior members of their Dojo.
その意味で、審査受験者の責任を感じてください。
In that meaning, you should feel your responsibility.
その解決には道場全体の協力が必要です。
The solution need the cooperation with whole Dojo members.
取りの技術も受けの技術も両方ができる稽古を目指して下さい。
You should aim the practice to learn both technique, Tori and Uke.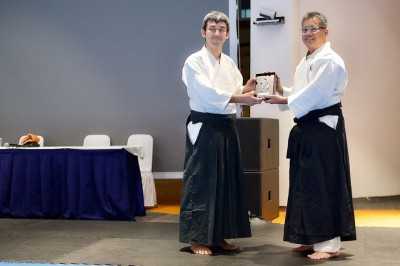 セミナー等の依頼はこちら。 About request of seminar is here.
最新情報もこちら。Latest information is here.
Aikido Shihan Tomohiro Mori Official Website
Facebook ページのフォローお願いします。 Please follow my Facebook page.
最新情報が常に手に入ります。You will be able to get latest information.

宜しければ下記のSNSボタンでフォローして下さい。
If it doesn't bother you, please follow by these SNS buttons.
↓     ↓     ↓     ↓