筑波大学合気道部2018ワークショップ報告 The Report of Tsukuba University Aikido Club 2018 Workshop
現在、筑波大学合気道部が部員の減少に悩んでおります。存亡の危機とも言えます。
Now Tsukuba University Aikido Club has a problem decreasing in members. We are facing big crisis.
今回の行事は、それに対応するために筑波大学合気道部が同部OB会と協力し、行われました。
This event was held for reacting this situation and cooperating Aikido Club and graduates.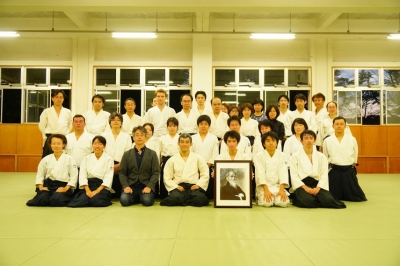 前半は「全ての分野で役に立つ合気道」というテーマで私の講演、後半は合気道の稽古、初心者の方には合気道の体験をしてもらいました。
In first half I did lecture class dealing with "Aikido useful by every field", and in second half We did Aikido practice class.
Beginners did experience Aikido first time.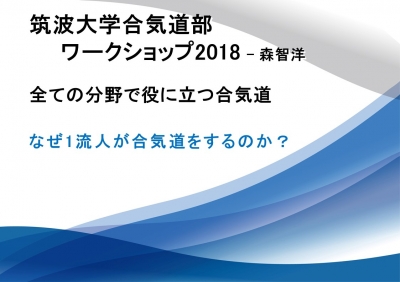 事前のポスター掲示、チラシ配布、ウェブでの広報等のおかげで全体で30名以上の参加者がありました。
Over 30 persons participated this event thanks to the poster display, handing the flyer, and advertisement by web site.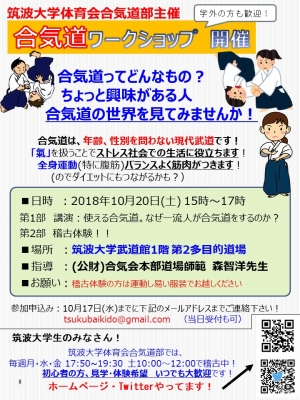 そのうち、合気道が初めての方が2名、初めての私たちのクラブに参加した学内の留学生が2名でした。
Complete beginners were two persons and first paticipants to our club as international student were two.
初めての人も楽しそうに稽古していました。
Beginners enjoyed Aikido practice.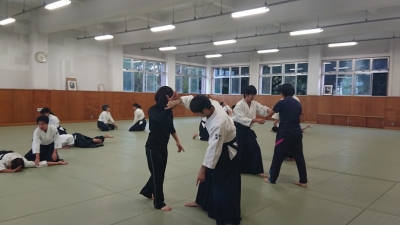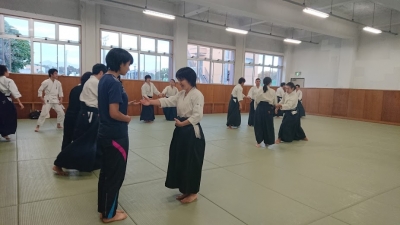 合気道部の今後へとつながる良い一歩となりました。
It was good step leading the future of our Aikido club.
学生の人数そのものの減少、学業や就職活動の多忙等で、合気道をする大学生はどんどん減っております。
The population of the students doing Aikido is dwindling due to decrease number of students and their busy situation about study and job hunting.
この難しい状況の中、今回は勝利をおさめることができました。
In this difficult situation we won somehow.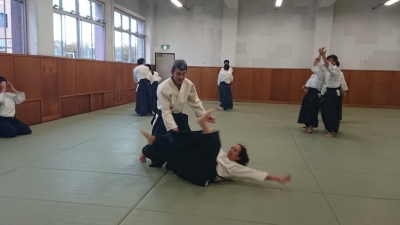 まだ厳しい状況は続きます。これからも最大限の努力をしていきたいと思います。
But tough state is unchanged. I will go forward to continue the maximum effort.
「我が運命を決めるのは我なり、我が魂を制するのは我なり」映画「インビクタス/負けざるものたち」より
"I am the master of my fate. I am the captain of my soul." Quoted from the movie "Invictus".
セミナー等の依頼はこちら。 About request of seminar is here.
最新情報もこちら。Latest information is here.
Aikido Shihan Tomohiro Mori Official Website
Facebook ページのフォローお願いします。 Please follow my Facebook page.
最新情報が常に手に入ります。You will be able to get latest information.

宜しければ下記のSNSボタンでフォローして下さい。
If it doesn't bother you, please follow by these SNS buttons.
↓     ↓     ↓     ↓