長岡市合気会創立50周年記念行事報告 The Report of the 50 years Anniversary event of Nagaoka city Aikikai
長岡市民体育館にて午前中は2時間の講習会、午後は2時間の演武会が行われました。
Two hours Seminar was held in the morning and two hours Demonstration was held in the afternoon in Nagaoka city Gymnasium.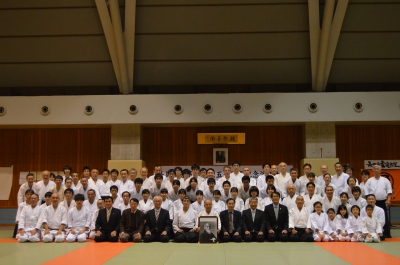 参加者は約60名、新潟県各地から友好団体が集いました。
The participants were about 60 people.
Friendship organizations gathered from each place in Niigata prefecture.
講習会では「半身の大切さ」をテーマに指導を行いました。
I instructed as the theme "the importance of Hanmi position" in the seminar.
無理な力を使うことなく、身体の存在そのものを力として使います。
I don't use wasteful power and use the power from the existence of my own body.
午後からの演武会では長岡市合気会の会員、新潟県各地の友好団体の招待演武、長岡市合気会会長 渡辺修一 師範の演武と続きました。
In the afternoon Demonstration the members demo of Nagaoka city Aikikai, friendship organizations demo, and the president of Nagaoka city Aikikai, Syuuichi Watanabe shihan demo were done.
最後に私が演武を行いました。
Finally I did the demonstration.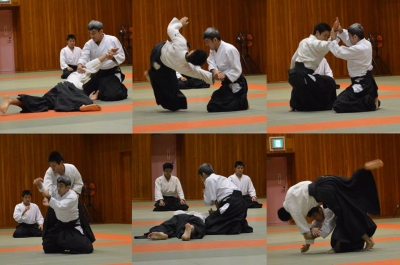 この演武はぶっつけ本番で、事前の打ち合わせは全く行っていません。
This demo was acting without rehearsal. We did no arrangement in advance.
今まで稽古の中で受けをお願いしたことはありますが、演武をするのは初めてです。
I have ever asked them my uke in the practice.
But it is the first time in the demonstration.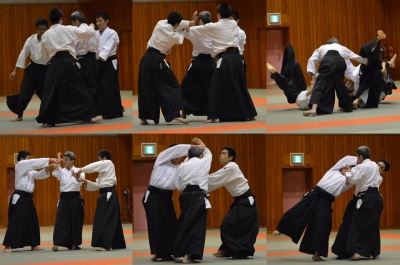 若い3名の素晴らしい才能をご覧ください。
Please watch the great talent of young three persons.
演武会後、場所をパストラル長岡に移して祝賀会が開かれました。参加者は約70名。
After Demonstration, the celebration party was held in Pastoral Nagaoka.
The participants were about 70 people.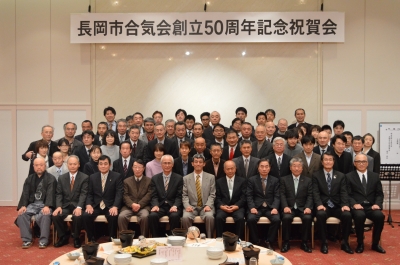 50周年と一言に言いますが、その歩みは様々な人の想いと労力が積み重なった結果です。
50 years anniversary, we can say in a word.
But this is the result that so many people accumulated their hearts and efforts.
長岡市合気会の、この節目の時を共に過ごせたことを感謝します。
I am grateful for being able to spend this milestone time of Nagaoka city Aikikai together.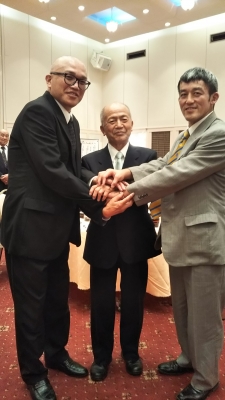 セミナー等の依頼はこちら。 About request of seminar is here.
最新情報もこちら。Latest information is here.
Aikido Shihan Tomohiro Mori Official Website
Facebook ページのフォローお願いします。 Please follow my Facebook page.
最新情報が常に手に入ります。You will be able to get latest information.

宜しければ下記のSNSボタンでフォローして下さい。
If it doesn't bother you, please follow by these SNS buttons.
↓     ↓     ↓     ↓