筑波大学合気道部2019ワークショップ報告 The Report of Tsukuba University Aikido Club 2019 Workshop
このイベントは新歓行事の一環として、筑波大学合気道部が同部OB会と協力し、行われました。
This was held as welcome event for new student to Tsukuba University Aikido Club cooperating by Society of the Club Graduates.
前半は「全ての分野で役に立つ合気道」というテーマで私の講演、後半は合気道の稽古、初心者の方には合気道の体験をしてもらいました。
In first half I did lecture class dealing with "Aikido useful by every field", and in second half We did Aikido practice class.
Beginners did experience of Aikido first time.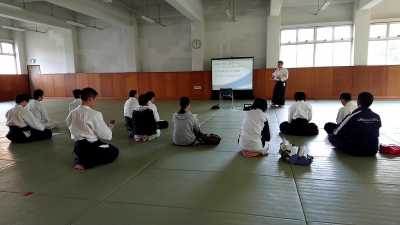 参加者は18名、そのうち合気道が初めての方は5名でした。
The participants were 18 and among them beginners were 5 persons.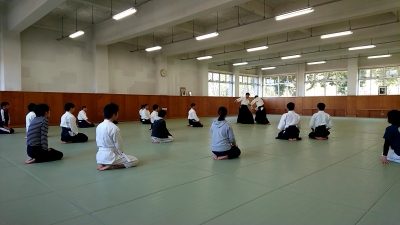 最後には演武を行いました。
Finally I did demonstration.
参加者には合気道の素晴らしさの一端を知っていただくことが出来ました。
The participants could understand a part of Aikido splendor.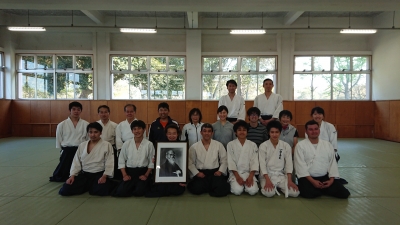 このワークショップには昨夏の富士登山でガイドをして頂いた近藤夫妻が参加していました。
Mr. and Mrs Kondoh, he was my guide of my climbing to Mt.Fuji in last summer, participated this workshop.
稽古後、近藤氏に前からお約束していた特別の身体調整を行いました。
After event I gave him some special body conditioning as I promised.
調整後の近藤氏は、それ以前とは全く異なった素晴らしいものになっていました。
After the body conditioning, his body became very great compared to before.
股関節から両足に綺麗に軸が通り、その影響で上半身にも軸がつながっている。
The axis went through from his hip joint to his legs clearly.
In this influence the axis could connect to his upper body parts.
近藤氏も今まで仕事をしてきて中で最高の立ち方が出来ていると話していました。
At that time, Mr. Kondoh said that he could keep on best standing position in every his working life.
私の今までの経験の中でも最高の変化が現れた方でした。
He is the person appeared most great changed in my experience.
イベント前と後の近藤氏は別人のようでした。
He was like different person between before and after the event.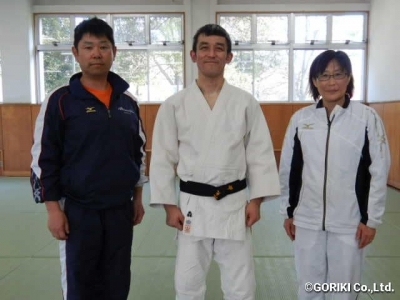 理想的な気づきとは圧倒的なものです。
The ideal perception is overwhelming one.
近藤氏にも、これから爆発的な上達がやってくるでしょう。いや既に、それは始まっています
The explosive improvement will come to Mr. Kondoh from now on. No it has started already.
多分、それは彼が今までに経験したことのないものになるでしょう。
Probably it will become things he never experienced.
近藤氏の中に眠っていて滞っているものがあり、それに私が火をつけた。
In his body, there were something sleeping one and were something be stuck in. I set fire to them.
人々の成長のきっかけとなれたことを私は非常にうれしく思います。
I am very pleasure to be a trigger for the people's growth.
セミナー等の依頼はこちら。 About request of seminar is here.
最新情報もこちら。Latest information is here.
Aikido Shihan Tomohiro Mori Official Website
Facebook ページのフォローお願いします。 Please follow my Facebook page.
最新情報が常に手に入ります。You will be able to get latest information.

宜しければ下記のSNSボタンでフォローして下さい。
If it doesn't bother you, please follow by these SNS buttons.
↓     ↓     ↓     ↓