東芝合気道部20周年行事報告 The Report of Toshiba Aikido Club 20 years Anniversary Event
まず13:15より1時間、本部道場にて私の指導による特別講習会。
First, special seminar instructed by me, Tomohiro Mori was held one hour in Hombu Dojo from 13:15.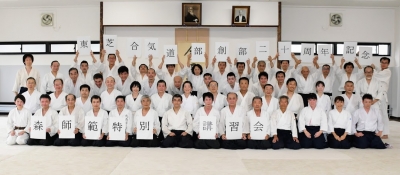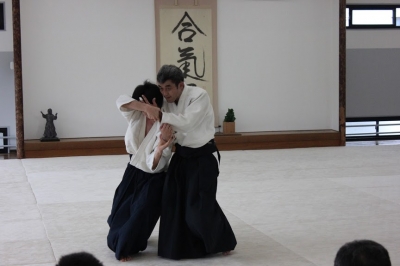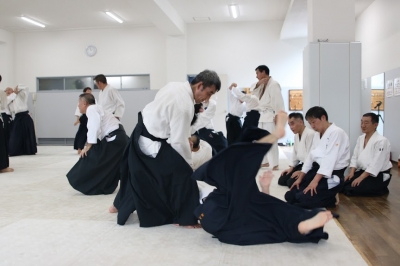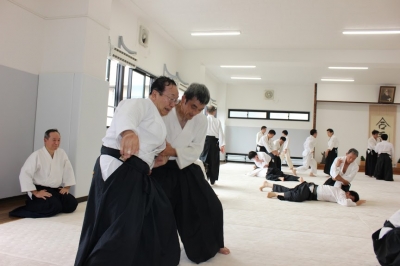 16:00よりグレイス・バリ新宿にて植芝守央道主をお迎えして祝賀会が行われた。
Next, the celebration party was held inviting Aikido Doshu Moriteru Ueshiba in Grace Bali Shinjuku from 16:00.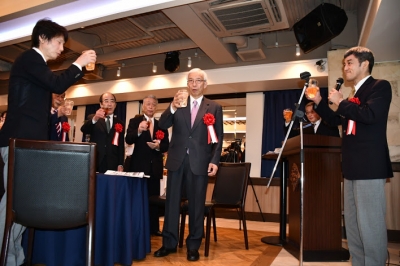 東芝合気道部は創設時より、私が指導している。思い返せは20年はあっという間であった。
I have taught Toshiba Aikido Club from the beginning.
This 20 years were passed by in a instant.
ここで記念誌に寄稿した祝辞を示します。
I express the congratulation message published in the memorial magazine.
東芝合気道部20周年おめでとうございます。
今までの東芝合気道部の活動を一言で表すなら「変化」に尽きるでしょう。
稽古場所は20年間で4箇所を移転し、会員も入れ替わり部の代表である部長は現在で5代目です。
厳しい社会情勢の影響を受けやすい企業クラブならではの難しさもあるでしょう。
それでも東芝合気道部は、ずっと「東芝合気道部」であり続けているのだと思います。
絶えず動き続けながらも大切な中心を失わない。
その中心は言葉に出来ないものかもしれなけれど誰もがそれを感じている。
それが「東芝合気道部」です。
Congratulaton 20 years anniversary of Toshiba Aikido Club.
If I express the activity of Toshiba Aikido Club by one word, it is "Change".
The place of practice has been changed 4 times for 20 years, some members have been replacing and the present deligate, chief of club are fifth generation.
The corporate sport club is easy to be influenced by strict economic situation and keeping the activity is not easy.
However, Toshiba Aikido Club has never changed and has kept to been itself, I think.
It always has kept moving but never has lost important core.
It may be difficult to appear the core by word, but every member can feel it.
This is "Toshiba Aikido Club".
英語のことわざに、こんなものがあります。
「A rolling stone gathers no moss. : 転がる石には苔はむさない」
解釈は否定的な意味と肯定的な意味に分かれます。
否定的なものは一か所に留まれないものは何もなすことが出来ないというもの。
肯定的なものは動き続けるものは常に新しくいられる。
東芝合気道部のありようは後者なのでしょう。
先が見えない時代だからこそ「変化」し続け、中心を失わないということが、どれ程、この先、求められることでしょう。
We are The Rolling Stones!!
これからも変化を恐れず、未来へ突き進みましょう。
English proverb has folling one like this.
"A rolling stone gathers no moss."
This interpretation divides negative and positive.
The negative meaning is what the persons who can not stay one position, can not do anything.
The positive meaning is what the persons who continue to move, always can stay new situation.
Toshiba Aikido Club is the latter.
To keep changing and never lose the core will be required well due to in the uncertain future.
We are The Rolling Stones!!
Let's go to the future without fear to change.
セミナー等の依頼はこちら。 About request of seminar is here.
最新情報もこちら。Latest information is here.
Aikido Shihan Tomohiro Mori Official Website
Facebook ページのフォローお願いします。 Please follow my Facebook page.
最新情報が常に手に入ります。You will be able to get latest information.

宜しければ下記のSNSボタンでフォローして下さい。
If it doesn't bother you, please follow by these SNS buttons.
↓     ↓     ↓     ↓