東芝・富士通合気道部沖縄合同合宿報告 The Report of Toshiba & Fujitsu Aikido Club Joint Camp in Okinawa
今回の合同合宿は東芝合気道部がメインの幹事として行われ、東京からは両部をはじめ姉妹道場から約40名が参加しました。
2日間の稽古は沖縄合気会のご協力のもと、合同稽古として行われました。
現地、沖縄の参加者は沖縄合気会、沖縄科学技術大学院大学合気道部から40名以上となりました。
カンボジアからも5名の道友が参加しました。
沖縄に合気道本部道場の指導者が行くのは非常にまれです。
この貴重な機会を作っていただいた関係者の皆様に感謝いたします。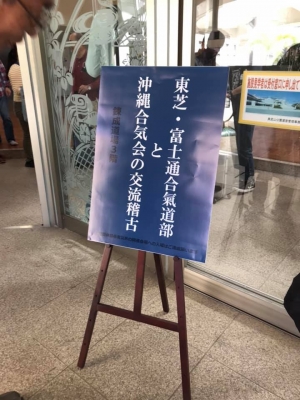 This joint camp was held by Toshiba Aikido Club as main organizer and about 40 persons joined from both two clubs and other sister dojos.
Two days practices were held as joint practice cooperating Okinawa Aikikai.
Participants of Okinawan were over 40 from Okinawa Aikikai and Okinawa Institute of Science and Technology Graduate University Aikido Club.
5 Aikidoka joined from Cambodia, too.
It is very rare to visit Okinawa by Aikido Hombu Dojo instructor.
I appreciate to all concerned persons to produce this very precious experience.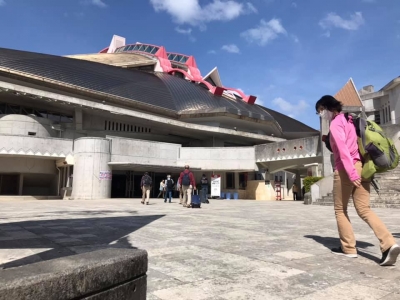 11月9日の稽古は私の1時間15分の指導と沖縄合気会・山口巌師範の1時間15分の指導で行われました。
翌、10日は2時間を私が指導しました。
沖縄の方々は貴重な機会をしっかり捉えようと、真剣に稽古をしていました。
これを機に、今後も交流が深められればと思います。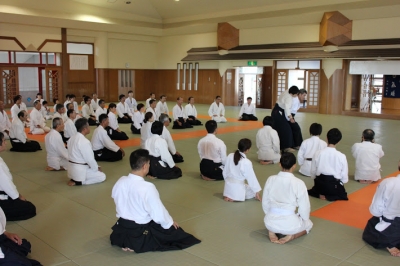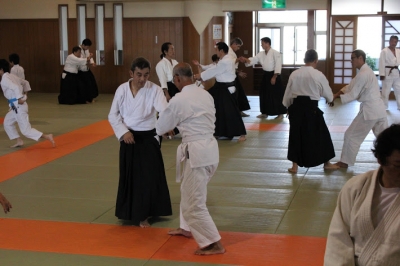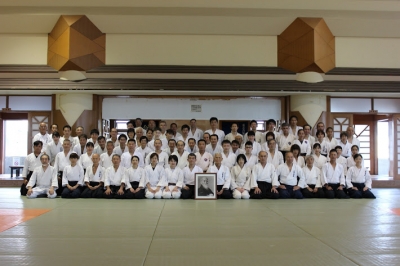 The practice of 9th Nov. was joint practice.
First class was 1 hour 15 minutes class by me.
And second class was 1 hour 15 minutes class by Iwao Yamaguchi Shihan of Okinawa Aikikai.
On next day 10th Nov. I conducted 2 hours class.
Okinawan persons practiced seriously to grasp precious opportunity.
I would like to further expand this exchange in the future with this chance.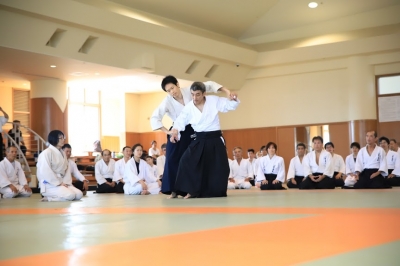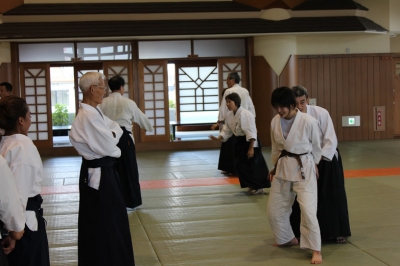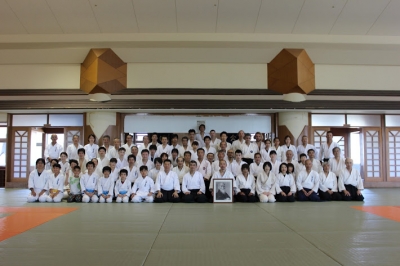 稽古後、首里城を観に行きました。
皆さんご存知のように、首里城は10月31日の火災で正殿、北殿、南殿が全焼しています。
首里城内部には入れず、周りから見るだけでした。
周りからも焼け跡の様子が伺えました。
沖縄の人でなくとも悲しくなる光景です。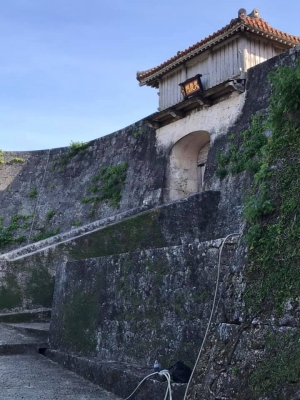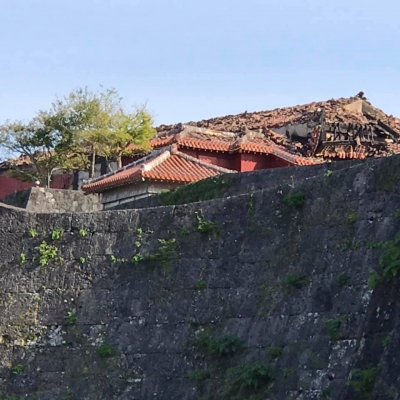 After practice we went to Shuri castle.
As you know, main, north, and south building of Shuri castle were burned down on 31th Oct..
We could not enter in the castle and only could watch from around there.
I could see the burnt building even from there.
It was sad scene even if for not Okinawan.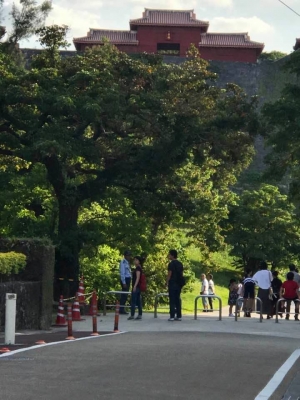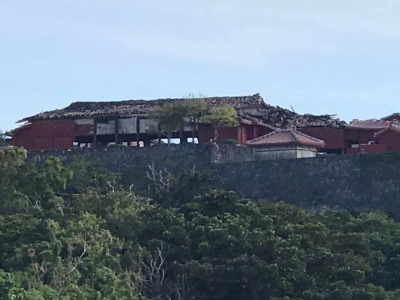 その後、国際通りを散策していると、ちょうど首里城復興募金のエイサーをやっていました。
大勢の人々が集まっていました。
私も、わずかですが寄付をしてきました。
首里城焼失から10日あまり、沖縄の人々は動きだしていました。
首里城再建については具体的には何も決まっていません。
前回の再建には何十年も掛かっています。
それでも、あきらめることなく、今出来ることを行おうとする沖縄の人々がそこにいました。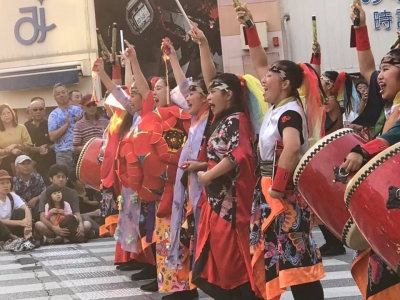 After that when I was walking on Kokusai street, Eisa Okinawa original dance event was been holding for the donation to rebuilt Shuri castle.
Many people were gathered there.
I made a donation there.
About 10 days after burned down Shuri castle, Okinawan already had begun to move.
Now, there is no concrete plan to rebuilt Shuri castle.
Last time rebuilding took decades years.
At that place, there were so many Okinawan, not given up and tried to do what they can.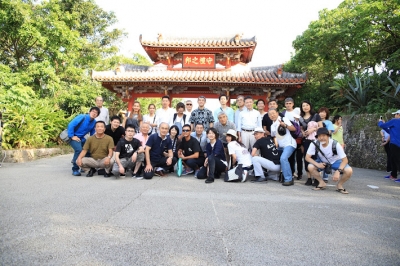 合気道は理想を追い求める武道です。
合気道の求める境地は、私達が決して届かないほど高いものです。
でも私達、合気道家は、その理想を、あきらめたり、冷笑することなく、追い求め続ける。
それが合気道です。
合気道の生き方と沖縄の人々の生き方は同じです。
頑張れ、沖縄!!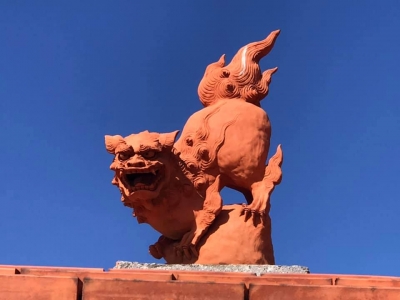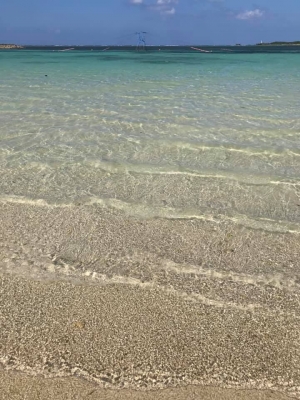 Aikido is the martial arts aiming ideal.
The ultimate goal of Aikido is very high as we never reach.
But we never give up and never sneer.
We keep to aim the ideal.
This is Aikido.
The way of Aikido and the way of Okinawan are same.
I will support Okinawa.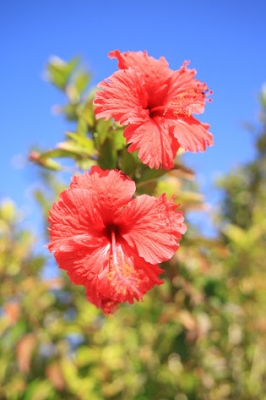 玉陵 Tamaudun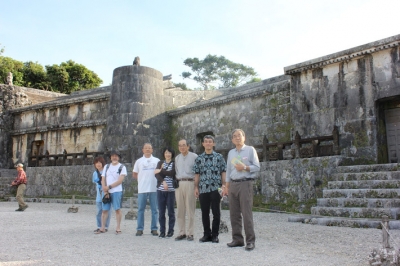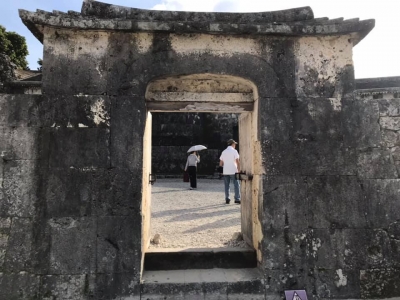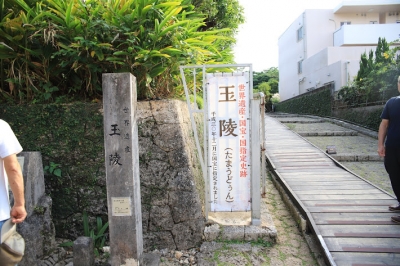 達磨寺 Daruma Temple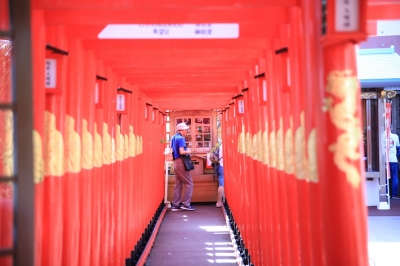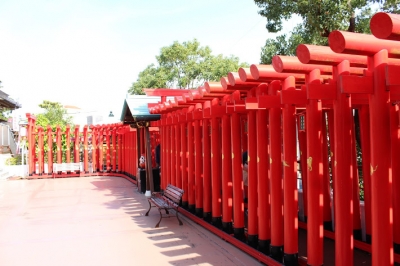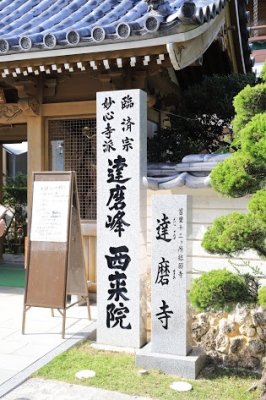 万座毛 Manzamo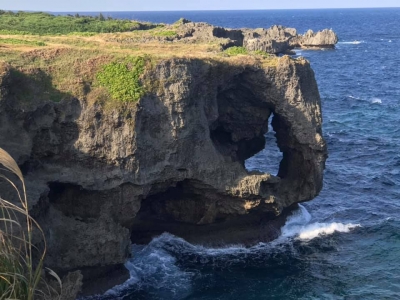 今帰仁城 Nakijin Castle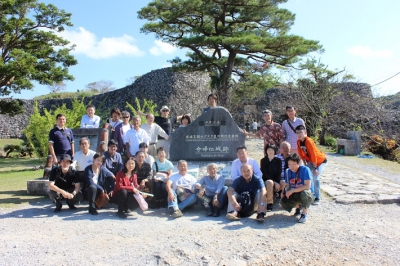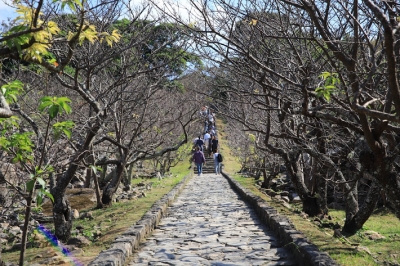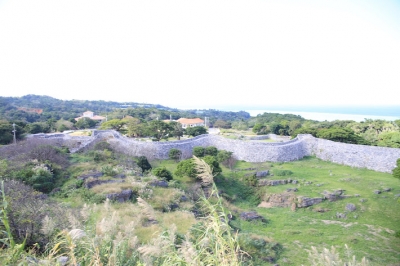 古宇利島 Kouri Island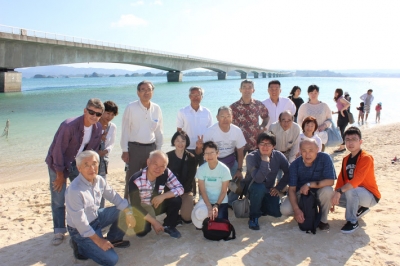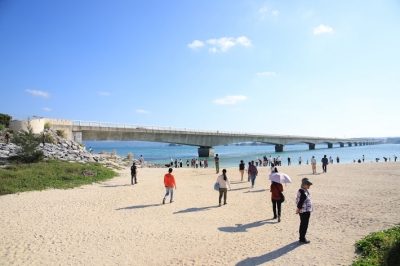 セミナー等の依頼はこちら。 About request of seminar is here.
最新情報もこちら。Latest information is here.
Aikido Shihan Tomohiro Mori Official Website
Facebook ページのフォローお願いします。 Please follow my Facebook page.
最新情報が常に手に入ります。You will be able to get latest information.

宜しければ下記のSNSボタンでフォローして下さい。
If it doesn't bother you, please follow by these SNS buttons.
↓     ↓     ↓     ↓
記事を見逃さないよう、ご登録を