「単独稽古2.0」 第2回 "The Independent Practice 2.0" No.2
今回は「単独稽古」と「単独稽古2.0」の違いを説明したい。
この二つの間で何が同じで、何が異なるのかという議論の提示は「単独稽古2.0」の進む方向を示すことになる。
I would like to explain the difference "the Independent Practice" and "the Independent Practice 2.0".
The presentation of story about what is similar and difference between both sides, expresses the advance direction of "the Independent Practice 2.0"
同じ点をシンプルな言葉で表すと「人間の身体と精神の能力の向上を目指す」となる。
合気道にしても他の分野にしても、根本となる人間の能力の拡大がなければ、その専門分野での向上は不可能なのだ。
Similarity is expressed as simple phease, "To aim the progress of human body and mind".
Anyway either Aikido and other fields, it need to expand fundamental human ability for improvement in the specialized field.
異なる点、この理解が、より大きな意味を持つ。
それが「単独稽古2.0」の未来を示すからだ。
私の考える異なる点は二つである。
言語化と段階化である。
Understanding the different point has big meaning.
Because it expresses the future of "the Independent Practice 2.0".
The difference are two point, verbalization way and stepped way.
伝統的な「単独稽古」は自分一人で行うものである。
自分だけが分かればよい。誰にも説明することはない。
「単独稽古2.0」では生徒たちに自分自身の身体や意識の世界を説明しなければならない。
それには言語化は不可欠だ。
これは非常に難しいことである。
自分の内面の世界を他の人に知らせることに抵抗がある人もいるであろう。
しかし、自分の内面を、そのまま出す必要はないし、出すべきでもない。
あなたの世界を他人に理解できるかたちに加工して表現すればよいのだ。
Traditional "the Independent Practice" is done by only one person.
The understanding need just for one practitioner. It is no need to explain to other person.
In "the Independent Practice 2.0", teachers must explain the world of their body and mind to their students.
Verbalization way is necessity in this situation.
It is very difficult.
Some person may has resistance to inform other people about their inside world.
But they need not expose their inside world and should not expose as it is.
They should express their world by processed form for understanding to other people.
もう一つは段階化である。
彼らが自分のトレーニングを行う際は、それは自分のためだけに行っている。
「単独稽古2.0」では、それを生徒に提供しなければならない。
自分自身のトレーニングは自分以外の人には難しい。
トレーニングは要素に分解して難易度を調整し段階的に教えるしかない。
Other point is step by step way.
When the teachers do their own training, they do for themselves.
In "the Independent Practice 2.0", they have to provide their own training to their students.
Their own training is difficult for the people other than them.
They have to divide their training to some factor and adjust the difficulty and teach as step by step.
「単独稽古2.0」の価値を高めるには言語化と段階化が必要なのである。
今、世界中で「単独稽古2.0」を行っている指導者に、この二つの方向性を提案したい。
続く。
Verbalization and stepped ways are necessary to increase the value of "the Independent Practice 2.0".
I would like to propose these two directions to the instructors doing "the Independent Practice 2.0" in the world.
To be continued.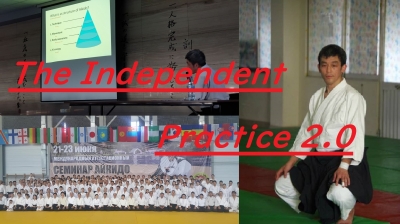 セミナー等の依頼はこちら。 About request of seminar is here.
最新情報もこちら。Latest information is here.
Aikido Shihan Tomohiro Mori Official Website
Facebook ページのフォローお願いします。 Please follow my Facebook page.
最新情報が常に手に入ります。You will be able to get latest information.
You Tube チャンネルを登録してください。
Please register Tomohiro Mori channel.
Tomohiro Mori You Tube Channel
記事を見逃さないよう、ご登録を
宜しければ下記のSNSボタンでフォローして下さい。
If it doesn't bother you, please follow by these SNS buttons.
↓     ↓     ↓     ↓