ハイブリッド稽古会報告 The Report of Hybrid Practice Class
ハイブリッド稽古会とは道場での実際の指導とオンラインでの指導を同時に行うものである。
道場では単独動作の稽古を指導し、それと同様、もしくは若干調整したプログラムをオンラインで指導する。
恐らく世界で初めての試みではないかと思う。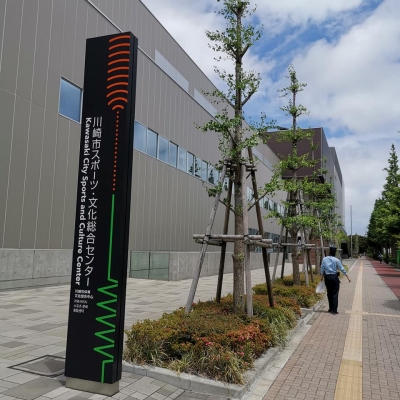 Hybrid Practice Class is done real instruction in dojo and online instruction in remote at the same time.
I taught the independent movement practice in dojo and instructed same program or little bit adjusted one in online.
Maybe I think it was first attempt in the world.
ソーシャルディスタンスの影響で大勢が道場に集まれない。
人それぞれのリスク選好が異なり、一種類のプログラムでは満足できない。
これらの問題を解決する手段としてハイブリッド稽古会は実施された。
実際の道場参加者11名、オンラインでの参加17名となった。
いつものオンラインでの参加の1.5倍程度の参加である。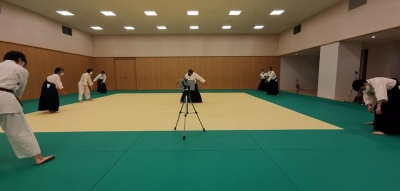 Due to social distance many persons can not join in dojo.
Due to several risk appetite to new corona virus all persons can not be satisfied with one program.
Hybrid Practice Class was held as the solution to these problem.
The participants of real dojo were 11 and of online were 17.
The number of participants was 1.5 times of regular online class.
前述の問題解決以外の予想外の効果もあった。
オンラインだとデジタル・ディバイドやその他の理由のため参加できない人がいる。
ハイブリッド稽古会は、これらの人々の受け皿となることが出来た。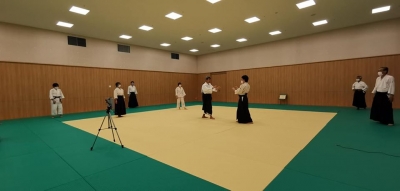 Hybrid Practice Class had unexpected success other than above these solution.
There are some persons unable to join online practice due to digital divide or other reasons.
Hybrid Practice Class was able to accept these persons.
違う状況の人たちが、お互いを認め合い、違う中でも一緒に参加できる場。
ハイブリッド稽古会は、大きな可能性を有している。
先が見えない未来に向かって確実な一歩を出した。
This place can accept each other persons in different situation and can be joined in different way.
Hybrid Practice Class has big potential.
We took a certain step to uncertain future.
セミナー等の依頼はこちら。 About request of seminar is here.
最新情報もこちら。Latest information is here.
Aikido Shihan Tomohiro Mori Official Website
Facebook ページのフォローお願いします。 Please follow my Facebook page.
最新情報が常に手に入ります。You will be able to get latest information.
You Tube チャンネルを登録してください。
Please register Tomohiro Mori channel.
Tomohiro Mori You Tube Channel
記事を見逃さないよう、ご登録を
宜しければ下記のSNSボタンでフォローして下さい。
If it doesn't bother you, please follow by these SNS buttons.
↓     ↓     ↓     ↓